At Llanblethian Orchards we spent the winter thinking about our orchard. Specifically how we could make it just that little bit more special for our summer open days.
After much deliberation we decided what it needed was a space at night where our customers could sit around a fire and enjoy a nice glass of cider, i.e. a fire pit!
Our main inspiration was the wonderful event the Hare and Hounds pub in Aberthin ran at our barn the other year.  The photo on the right looks magical doesnt it 🙂
There is nothing like sitting around a campfire on a summers evening. Being mesmerised by the dancing flames, breathing in the perfumed wood smoke and listening to some tunes while enjoying some traditional cider in good company. Or perhaps i've been to one too many festivals!
I considered buying a small metal fire pit or re-purposed an old washing machine drum. for the purpose.  The metal fire pits always rust and look tatty in no time. They also get red hot and could give someone a serious burn if they accidentally touched it. Not to mention set fire to the grass if we have another summer like 2008. As such I decided to make a double skin stone fire pit instead. The double skin means the outer layer will be cold to the touch even with a roaring fire inside. MUCH safer!
It was also a thinly veiled excuse to play with stone work, which I adore doing <3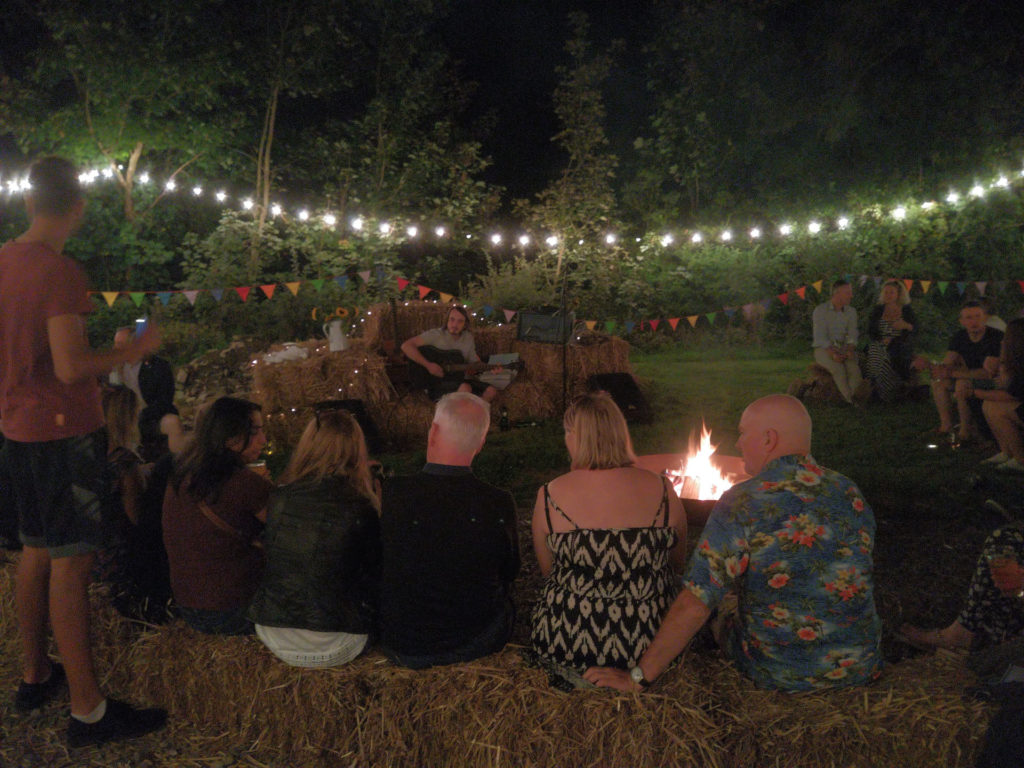 Have to say im really chuffed how it has turned out.
Theres enough room to use it as a table when the fire pit is not in use / low. It also provides a nice focal point for the orchard for people to congregate around.
The capping slopes outwards to allow water to drain away from the fire pit so it doesnt put it out if it rains.
Going forward the next step is to try and get some low voltage lights around the place to make it more welcoming at night.
If you are looking for stone to make one yourself do take a look at RP Williams they are awsome and my mate Owen at Owen electrical is a dab hand at low voltage garden lights as well 😉
And Finally, wear waterproofs! Don't be like me I was frozen after a whole day with this in howling winds!