Nestled just outside Llanblethian in idylic countryside surroundings with good public transport links. The Llanblethian Orchards cider barn is the perfect place to kick up your heels and unwind while sampling a glass of award winning Welsh cider.
At the cider barn we host a variety of events over the year for you to enjoy in keeping with the seasonal nature of traditional cider making.
Once a month during the summer months we throw open the doors to the barn and invite the public to come and sample our cider at the source.
On tap we have our current range of draught ciders and perries together with special editions and one offs some of which are only available at the barn!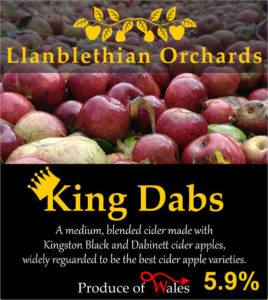 We also have our exclusive range of ice ciders and perries on sale for special occassions or those wanting to treat themselves together with a small range of bottle conditioned ciders and perries.
Our friends in the local Craft beer scene also supply us with a range of delicious bottled beers for partners who don't drink cider.
If you are peckish we have a traditonally made firebrick pizza oven based on Italian countryside ovens serving up a changing range of delicious wood fired pizzas and calzones to cater for vegans and meat eaters alike.
For the health concious we also have traditional apple cider vinegar containing the mother on offer as well as cider infused oak chips for the followers of low and slow Q.
Cider making demonstration and bring your own fruit day
During October we will be hosting a cider making demonstration day at the cider barn. On the day we will washing, milling and pressing fruit picked from our own orchard in Llanblethian.
If you are curious about the varieties of fruit we use in our award winning ciders, have ever wanted to learn more about cider making, see the process in action and ask some questions this is your opportunity.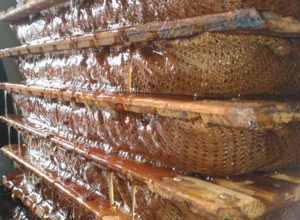 For those people with apple trees in their gardens and more fruit than they know what to do with have you ever considered making your own cider?
We will be offering our equipment and services on the day for a modest fee of 50p a gallon juice produced – to cover wear and tear – from any fruit you bring along.
All you need to do is bag up and bring along your sound apples as well as clean fermentation vessels to place the resultant juice in fitted with airlocks and we will clean the fruit, mill it and press the resultant pulp. You can even have a go if you want!
If you are interested in us pressing your fruit, please get in contact with us beforehand to ensure we can fit you in on the day.
We will also have our bar open on the day from midday stocking a range of our draught ciders. All this hard work is thirsty work after all!
Please note, we will not be using the pizza oven on the day as it will be in the way of the cider making process so no pizzas sorry.
Cancelled due to storm Callum
In January on the old Twelfth night (17th January) we will be hosting a traditional Wassail evening at the cider barn just outside Llanblethian.
The word wassail comes from th Anglo-Saxon phrase 'waes hael' meaning good health. Wassail is an ancient tradition where people from the local area would meet in the orchards to awaken the cider apple trees and scare away evil spirits during the dark days of winter. They would sing to the health of the trees, drive out the bad spirits by banging pots and pans, drums etc. and leave offerrings for the good orchard spirits so that next years harvest would be guaranteed. They would also partake of a warming blend of cider and spices as well, can't forget that!
Using cider made with fruit from the orchard we will be praising the orchard spirits, singing to their health and leaving small gifts of bread soaked in cider for them so that they ensure next years harvest will be good. We will also be scaring away the bad spirits by banging our pots and pans, fun for all the family!
We will have our bar open at the wassail selling a traditional wassail spiced cider, sometimes called lambs wool. We will also have more modern mulled cider on offer as well as our draught cider range.
If you need more warming up our pizza oven will be fired up serving up a delicous range of woodfired pizzas.
Thursday 17th january 5-9pm

For those people looking to stock up on supplies for Christmas we will have the cider shop open last Saturday before Christmas.
Our draught range of ciders will be on offer to purchase in takeaway containers. As well as our exquisite ice ciders and traditionally made cider vinegars.
We will also have a small range of mini (5L and 3L) bag in boxes of cider on sale, perhaps the perfect gift for your cider loving half?
 If you are peckish or thirsty while picking up the ciders you will be able to grab a pizza and a pint of cider while you decide as well 😉
Hire the cider barn for your own event
Are you looking for an outside space in the countryside to host your private party or event?
The cider barn and surrounding orchard are available for hire and can be tailored to suit your purposes.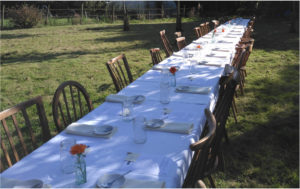 We can arrange hire of tables, chairs and marquees. We can set up and man a bar for the event supplying our cider as well as arrange the purchase of local craft beers and artisanal wines if needed. Our on site wood fired pizza oven can be manned by our resident chef if required as well.