Wood-fired Pizza oven
At our cider barn just outside Cowbridge we have a hand-built, wood-fired pizza oven.
It's made in the traditional Italian style with an insulated, self-supporting dome made out of fire bricks. The chimney is outside the dome above the entrance arch. This means the whole dome radiates heat back onto the food without cold spots. The Italians sure know how to design a wood fired oven!
The oven acts as a focal point for the seating area at our open bars / events. Providing warmth and theatre to the proceedings and filling the area with the lovely smell of woodsmoke.
As a child, some of my fondest memories are of visiting my grandparents at Christmas. Sitting in front of their open fire and roasting sweet chestnuts. And later in life I have spent more time sitting around campfires at music festivals than I can to admit!
I've always found wood fires to be disarming and strangely hypnotic. Able to strike up conversation, form friendships and provide comfort. It is also one of the things I miss the most living in modern accomodation.
As such, it was a given there would have to be some form of outside fire to act as a focal point to proceedings at the cider barn.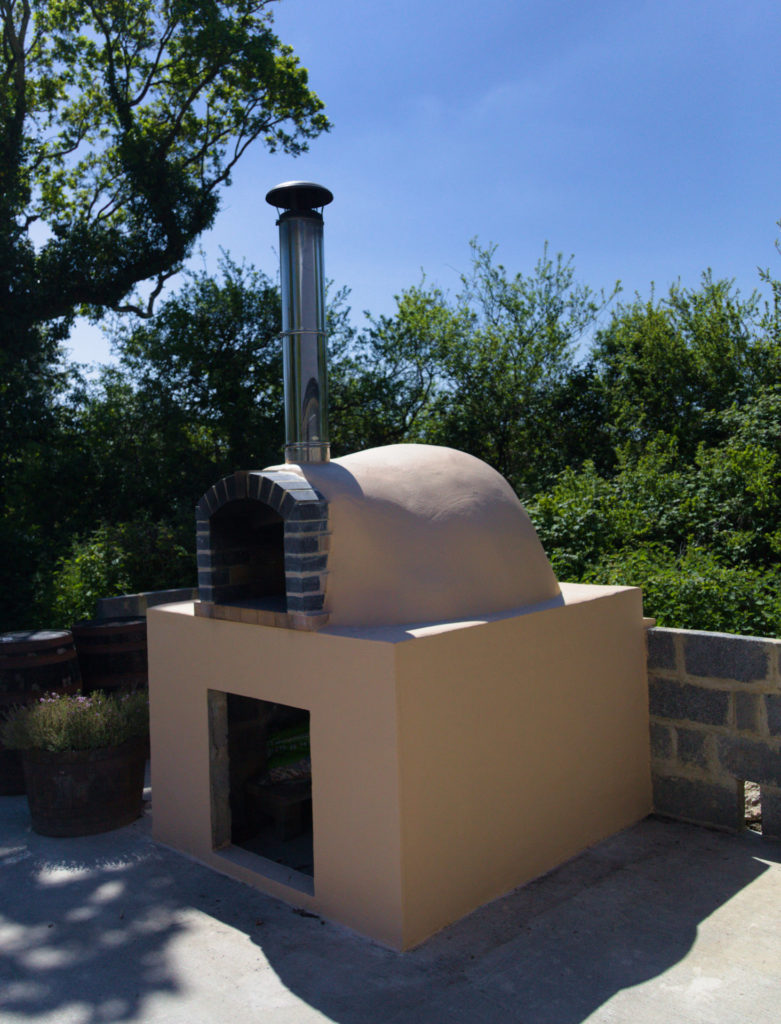 Why build a pizza oven?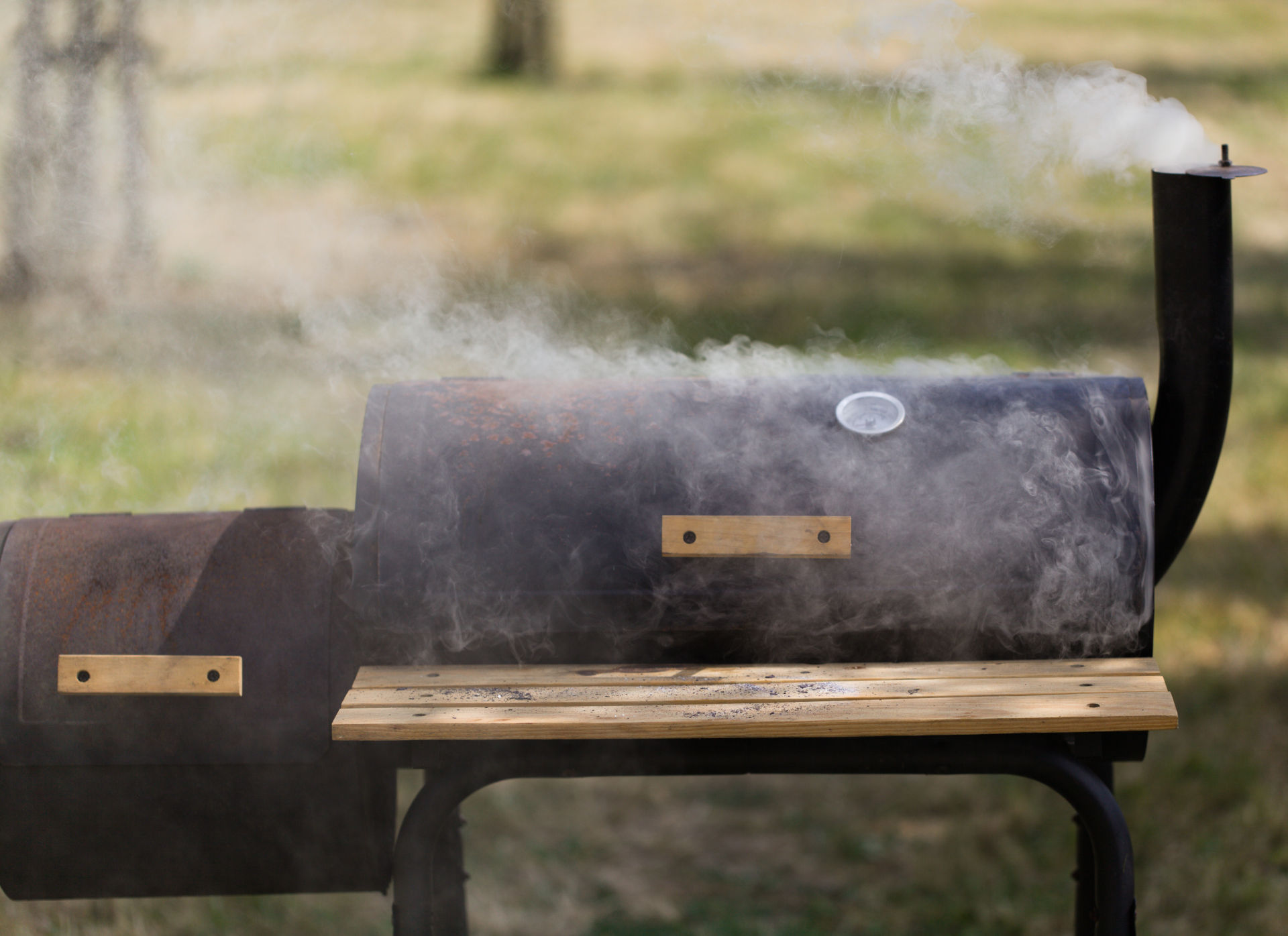 Originally I was'nt going to!
I have an old American-style low and slow bbq from ProQ. On it over the years I have hot smoked chickens, briskets, pork ribs you name it. I even did a cringeworthy youtube video making pulled pork using my cider vinegar. WHY I used portait mode I do not know…
My original plan was to make a brick smokehouse with an offset smoke chamber. The idea being I could offer low-and-slow pulled pork baps / bbq at my events. I was to a large degree copying what a lot of other cider makers / brewers offer. Raglan cider mill with their hog-roasting pit springing to mind immediately.
This plan then morphed into a combination smokehouse with direct fire bbq. Both linked with a stainless steel prep table /wood store between them.
While looking online for inspiration I stumbled across an American website Forno Bravo. The company makes pizza ovens and diy kits based on traditional Italian designs. The owner had lived in Italy and learned how they were traditionally made. As well as selling ovens/kits they also offer free plans on how to make your own from scratch. After visiting their forums and seeing photos of all the incredible diy ovens people had made I was hooked 🙂
If you ever consider making your own oven I strongly suggest looking on that forum. Whenever I was stuck with the build I found the answer there.
A lot of the materials used for the build were sourced from local builders merchants. The specialist heat resistant materials came from Vitica ltd based in Bristol.
Im happy to offer any advice I can as well. Feel free to contact me as needed.
Building the pizza oven
I built the oven in spring 2018. It took roughtly 8 weeks to complete. The snow showers adding a week to the build as I couldnt reach the barn!
The oven was built on top of a breeze block 'house' four blocks high. On the front of the 'house' is an entrance so wood can be stored below the oven.
The top of the entrance is supported by a concrete lintel. A suspended reinforced concrete pad was cast on top of the house. This acts as the base the oven was built on.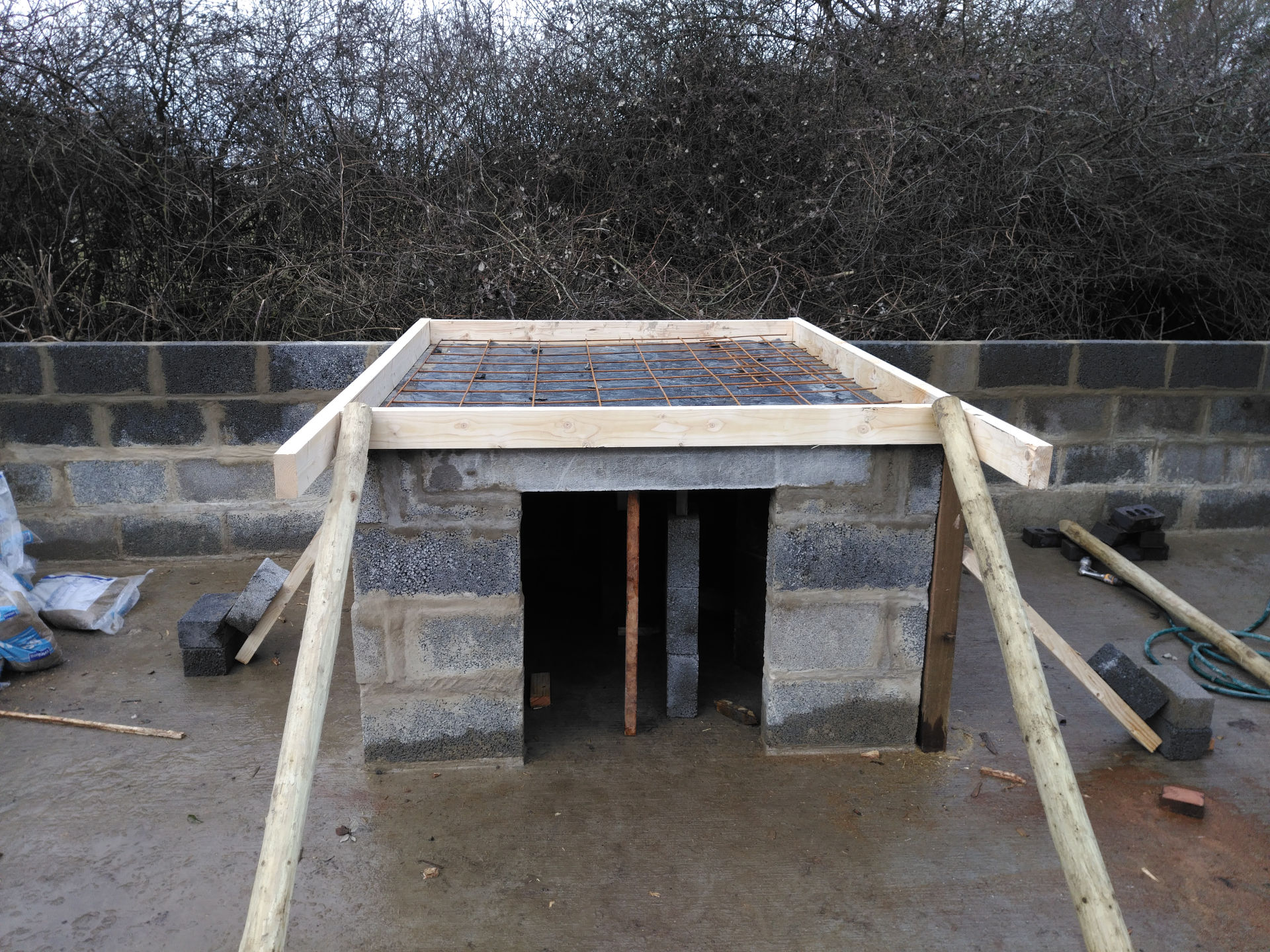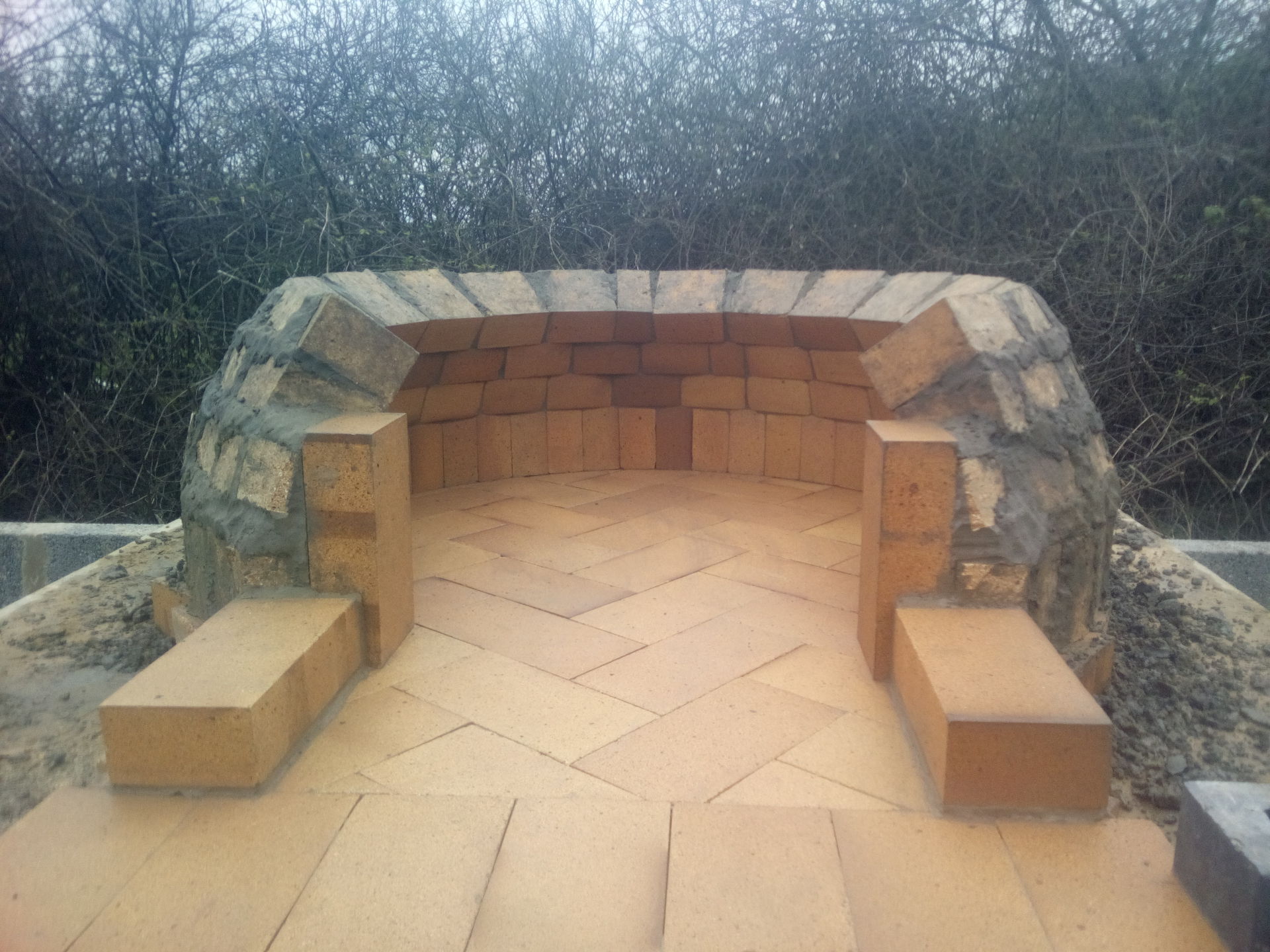 The base, entrance and dome of the oven are made out of fire bricks.
The base of the oven consistes of loose firebricks arranged in a herringbone pattern. This is so the pizza peel will not catch when slid into the oven.
The dome is self-supporting and made out of half firebricks cemented in place with heat proof mortar. The dome is locked in place with a tightly fitting custom cut cap stone.
The entrance of the oven consists of a firebrick archway with a cut out in it for smoke to escape.
A fireproof chimney was cast on top of the archway. A double wall insulated chimney pipe was then fitted.
Finally, a second higher archway was constructed in front of the fire brick archway out of engineering bricks.
This allowed the inner firebrick archway to be revealed when viewing in the oven for aesthetic reasons.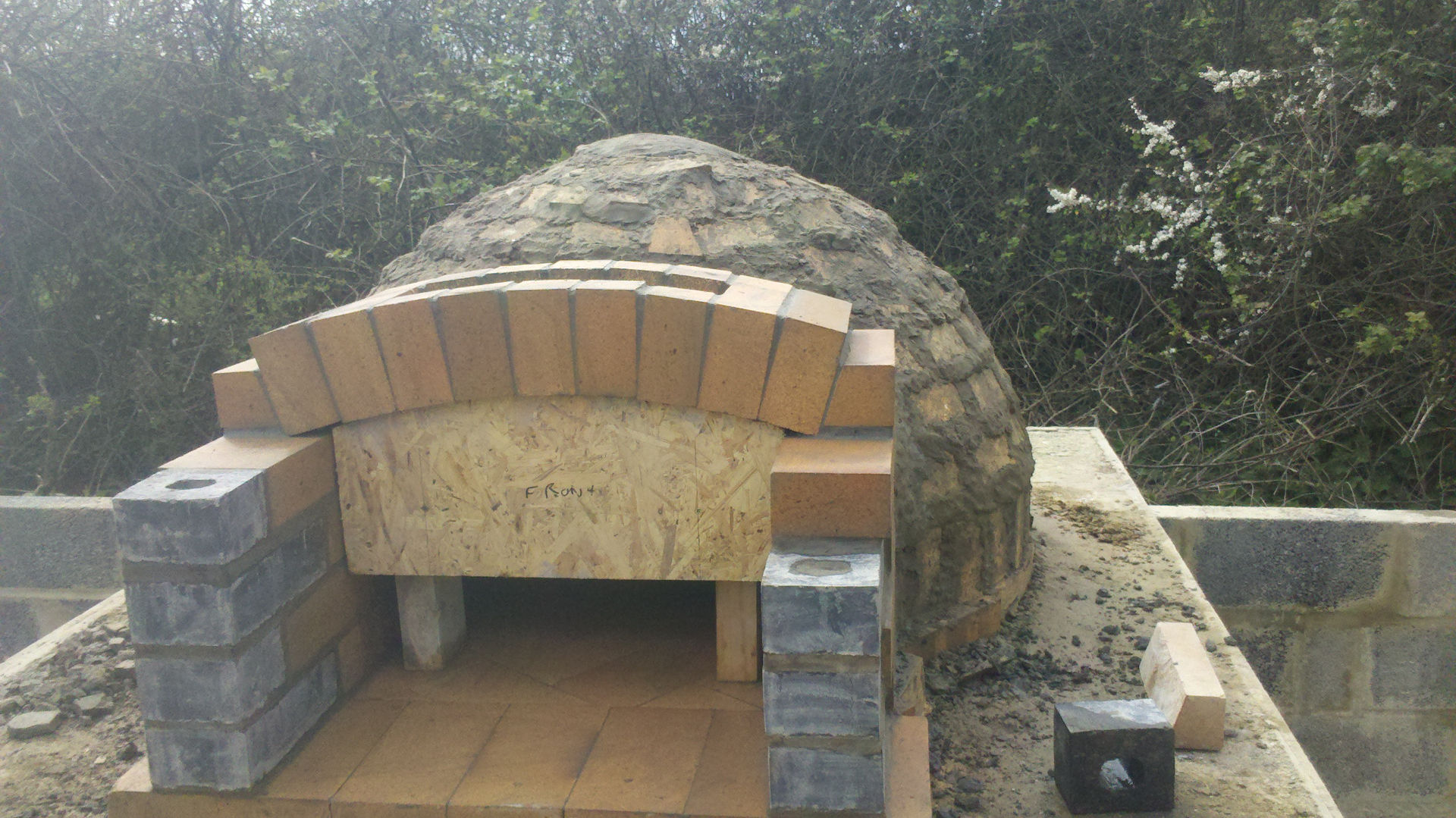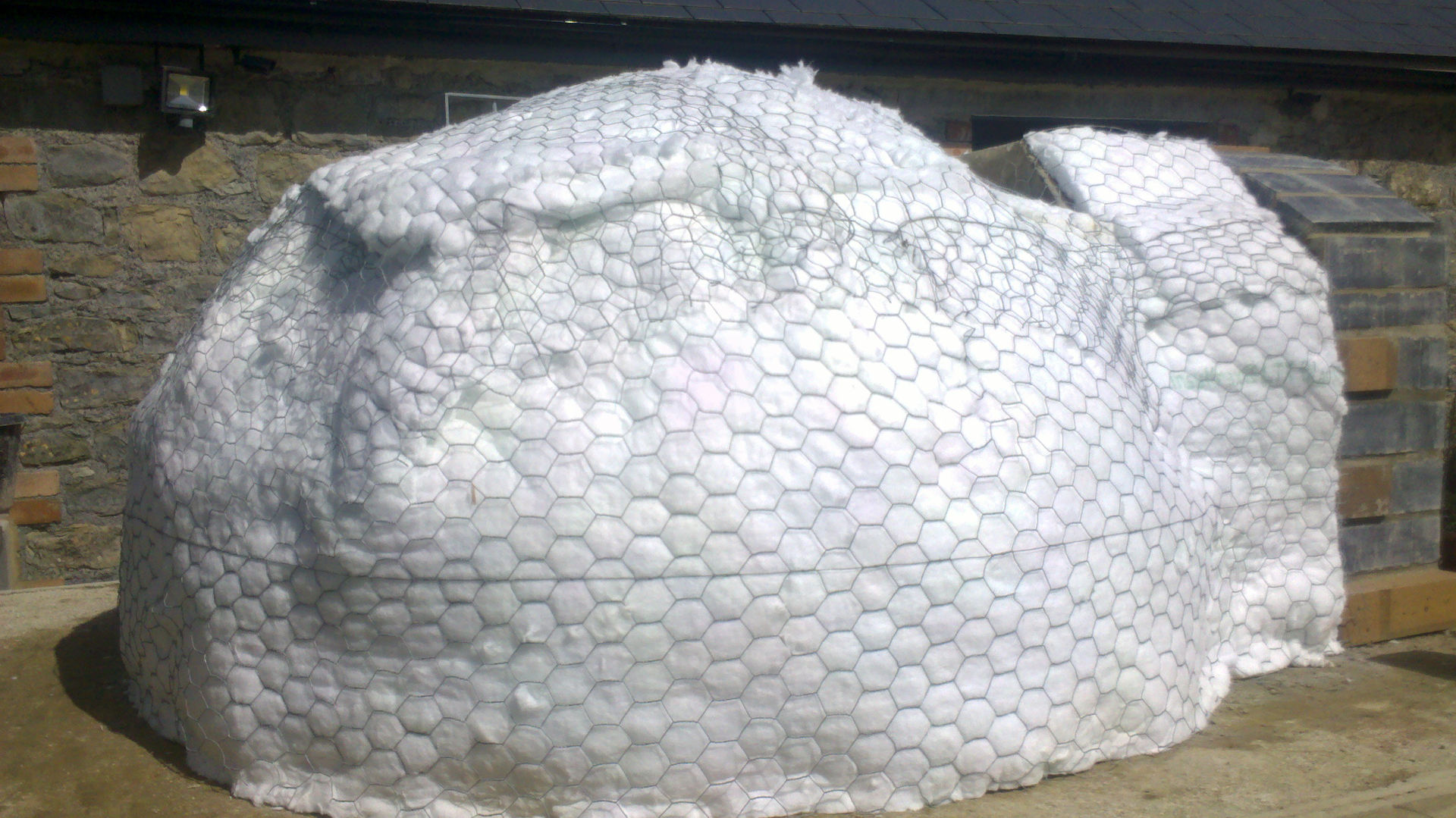 Ceramic fibre matting and insulating concrete were used to insulate the oven.
Waterproof cement based render was used to seal in the insulation.
Finally followed by a flexible latex based masonry paint.
For a more in depth description of the build please see the you tube video below or click this link.