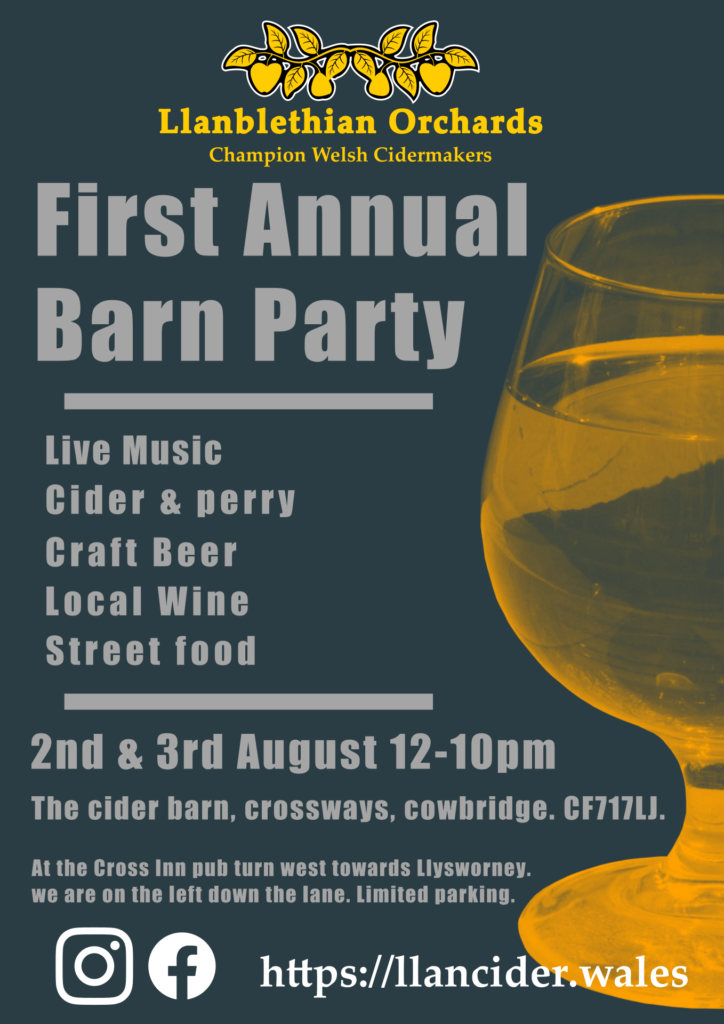 First annual barn party
We are pleased to announce our first annual barn party at Llanblethian Orchards.
Over two days on the 2nd and 3rd of August we will be hosting our party. On offer we will have all our usual ciders and perries on draught to drink there or take away including our ever popular 5L mini boxes, perfect for the fridge!.
We will also be showcasing our new range of craft keg ciders over the two days as well. Nothing like a chilled glass of sparkling cider in the orchard!
For the non cider drinkers
For partners who don't drink cider we have a range of bottled beers on offer from Bang on brewery in bridgend, Tomos a Lilford in Llandow and Bragdt Twt Lol in Treforest.
Bragdy Twt Lol are also supplying a keg of craft beer for the bar so we will have beer on tap as well 😀
We also have an alcohol free lager from Tomos a Lilford on offer as well!
As well as beer we have a range of delicous wines available from Glyndwr vineyard, grown just 200 yards away.
Live music
For our first annual party we have live music on offer in the evenings. Details will be announced in due course. If you are a local musican and wish to play at the event do please get in touch.
Street food
For our first annual party will be offerring an exciting range of streetfood to enjoy while our sample our delicous ciders and perries.